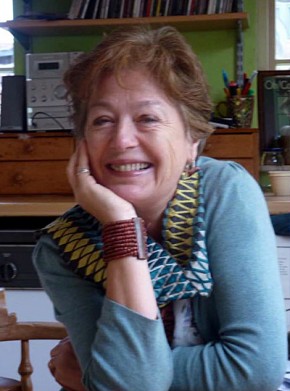 After graduating from Canterbury College of Art, Kent, with a degree in Graphic design and working for  a few years as a book designer, I began to work as a freelance artist, and I've illustrated over 40 books for children for a variety of authors, including Harry Secombe, Adrian Mitchell, Julia Jarman, Michael Rosen and Hilary McKay, as well as occasionally illustrating my own words too! Now I also design cards and prints for various ages and occasions, so don't forget to take a look here on the website, and check out the link to the iBookstore for the (still) free download of "Will there be polar bears?" I checked recently, August 2018, and there were 10,000 downloads!! Excellent..
After many years in London and even more in Suffolk, I'm now settled back in Kent with artist David Hayward. I have a studio at the Creek Creative building in Faversham, where I work rather untidily, but with great enthusiasm! Of course there's a fatally delicious cafe downstairs, as well as the shop where you can buy my pictures, cards and books on the spot…..
PLUS my new book: HODGE PODGE LODGE (a rubbish story) will be published November 1st…
The idea for the story came from the distress at seeing so much careless litter on walking paths
and lanes. I love walking (Saxon Shore Way, Coast to coast, Pennine Way etc etc) and along with my walking friends would love to hope the book will have some small impact!
As you might guess from the ukulele cards, I play the ukulele in, ahem, a ukulele band, with the odd gig thrown in!
Least likely to say: It's wonderful working at home on my own.
NB I do tweet from time to time: @LamontPriscilla and also Instagram: Priscilla_Lamont
To be honest Facebook isn't for me though I daresay the page is still up there!
Here's a link to the Kent Online Schools Charity Page, which is a short video of me reading
Hodge Podge Lodge to the children of Great Chart Primary, do please take a look!
https://www.kentonline.co.uk/news/charities/author-reads-latest-book-to-green-travel-champs-206477/
Agents
Heather Richards (UK) www.tallbean.co.uk
Kid Shannon (USA) www.kidshannon.com